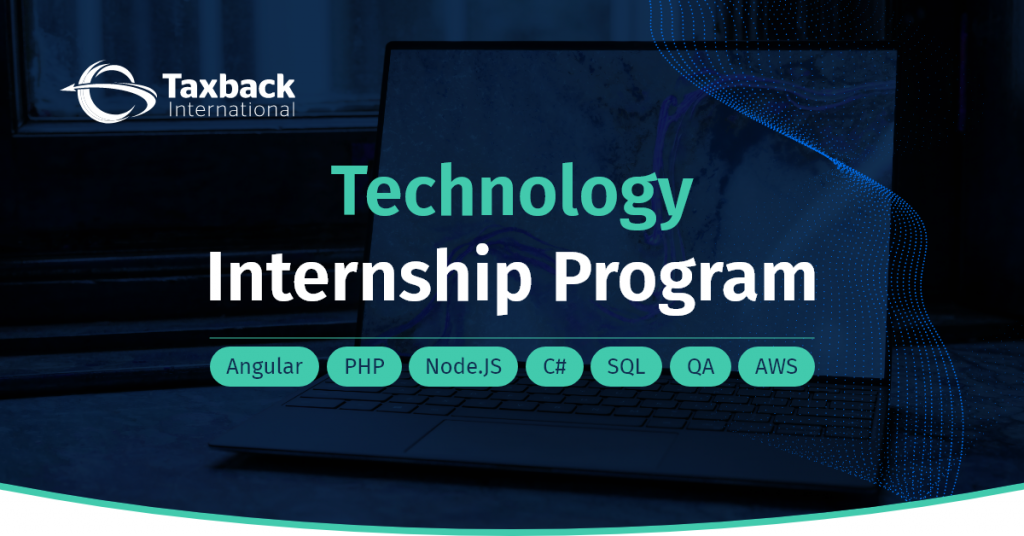 Description

Taxback International, established in 1996, is the world's leading technology and services company
which specialises in Value Added Tax (VAT) Reclaim and Compliance for a global client base for nearly all
of the fortune 500 companies (Google, Tesla, Facebook, Twitter, IBM .. the list is endless) with real-time
processing of over 10 billion transactions across 180 countries in multiple languages.
Trust us, this is not boring!
Taxback International is a creative company with the confidence to believe it can fundamentally change
the future of VAT compliance and recovery. Our people are incredibly ambitious, yet humble. Warm,
accepting, and positive. We constantly challenge each other to be the best we can be. We have been
voted as a Platinum winner of the Deloitte Best Managed Companies, as well as a "Great Place to Work"
for the 6th year in a row.

Taxback International Technology Organisation is launching an Internship programme that will be open
to students and recent graduates with a Degree, Masters and other applicable technical qualifications.


What You Can Expect

The Technology Internship program is designed for students interested in getting hands-on experience
with software development and QA on an AWS platform for a company that values its employees. We're
looking for talented individuals that have a passion for technology; coding, quality and continual
learning, as well as the desire to contribute and engage with the Taxback International
community. Candidates will be selected for internship roles specific to Development (Angular, PHP,
NodeJS, C#, Sql), QA and AWS Infrastructure during the interview process. Successful candidates will be
allowed to work remotely until such time as Taxback International offices re-open, it is likely that a
hybrid working model will then be facilitated. Once selected candidates pass the initial 2-4
week induction process this will be a paid internship and they will be issued with Taxback International
laptops and equipment. The internship will last for 12 months, including a senior
management performance review after 6 months, and the opportunity to be offered a permanent role
after 12 months.


Technology Internship Program Benefits
 2-4 week pre-internship unpaid work experience
 6-month full-time paid internship (university credit where applicable)
 Further 6 months fulltime paid internship if successful
 Challenging, SMART goal-based program
 Collaborative work environment
 Dedicated Program Advisor
 Mentor
 Technology Senior Leadership Sponsor
 Networking events and opportunities
 Exposure to best practices software development using Angular, PHP, C#, SQL as well as QA
within the Software Development Life Cycle and associated automation tools.
 Opportunity of being offered a permanent full-time role post
internship programme completion!!
 

What it Takes

 Desire to make a valuable contribution – make your work matter
 Motivation to expand existing skills through real-life experience
 Question status quo
 Critical thinker
 Comfortable taking initiative and enabling results
 Unique approach to problem solving
 Collaborative spirit
 Interest in building relationships and networking
Taxback International is committed to providing a clear professional roadmap that will allow successful
Interns follow a technology career path that is best suited to their skills and the technical disciplines
which is of most interest to them.